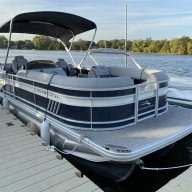 Messages

6
Reaction score

16
Hello, I am new to this forum and also buying a pontoon boat. I have owned an MC Scow (16' sailboat) for the past thirty years. I am purchasing a new Bennington pontoon boat as we are getting lazy in our old age and want to stay dry and enjoy cruising when we wish. I will keep my sailboat for racing however.

We are thinking about an LX23. When I compared an LX23 with an LX24 the 24 will cost us less than $2,000 more, including a trailer, etc., will carry the same number of people or one less and weighs less than an LX23. I am skeptical of this and wonder what advice you all can give me. Which would you buy, a 23 or 24?

I have enjoyed reading the forum. Thank you for your help.