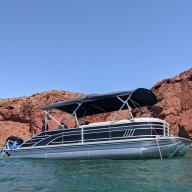 Messages

213
Reaction score

266
Location
WOW, these Benny's are SO MUCH FUN!

We were on the lake for 5 days, but only racked up about 11 hours. It was 120 degrees most days out, so it was hard not to just float in the water (with a drink of course).

I spent about 5 hours doing the initial packing. Wow, that is an ongoing puzzle, more on that in a future post.

Yep, I backed the boat into the water, jumped in, pushed start and….nothing. I swore I turned that main power switch on – apparently not – too funny thinking back as I sat there puzzled about what it could be for about 5 minutes until I just re-checked everything…LOL.

I modified the SwingBack by removing the factory privacy curtain bracket and replaced with a set of folding SS shelf brackets, with a wood strip mounted on top for placing the snaps. That provide me a huge amount of extra storage, in fact I got 12 life jackets, 2 sets of oars, the ski pole, the 4 cover poles, and my ski flag, plus a fold up toilet and a box of supplies all under that swing back!

The small box anchor did an amazing job, but once those Havasu winds and waves kicked in, I had to add the large box (there is no medium size) anchor – no issues after that! I did figure out using a wood tote bag was the perfect solution – I coil the rope in first, then lay the collapsed box anchor on top (ready to throw at the next stop). Makes carrying the anchor much easier and fits nicely under the front side seats, plus the tote protects the deck.

Using modified Railblaza sideports ( I belt sanded the units down so they fit the rails) I was able to install an ISUP Board Rack on the driver side of the boat and 2 Krypt horizontal racks on the passenger side for my wakeboards. They are easy to put on and off, and clear the deck of toys for long days out (My Marina is safe, everyone leaves their boards on overnight). As previously stated, the floor storage just was not large enough to get a 44" board into the locker without taking out the raised plastic floor.

After a few hours of low RPM break-in, my WOT with 4 people and fully loaded with equipment and 50 gallons of fuel, my 14.7 x 16 Prop pushed us to 5700 rpms and 41 mph. I later read that hot weather would reduce the Mercury performance by 14%. So when the temperature dropped to 95, I tested again and with some additional trim adjustments I got up to 6,200 rpm's and 43 mph. Still some testing to do, I was having too much fun to tinker around with this at the time.

The 25QX I saw with Dual 400's passed me like I was in a row boat. LOL. I just counted – 1 gallon, 2 gallons, 3…….. But it certainly was a beauty.

This TriToon is so smooth and stable – I had all my boat buddies thinking it was time to trade in their Chaparral's! The DTS throttle is awesome, the docking mode is a game changer, the 3 foot waves were mowed over like an afternoon snack. That Simrad is going to take some study to master, but I appreciated all the specs, custom layouts, and engine stats. No issues with 3 person tubes, tight turns or wakeboard hole shot.

As a Newbie, I only hit the shore trees once with a few small dents along the driver side and a small toon scratch, nicked the bottom once (slight prop nick), my "friend" lost his balance pulling up the anchor and bumped a front panel = ding, I have no idea where that grease stain came from that nothing seemed to get out, and the drill slipped once installing those Railblaza mounts adding a nice AC port hole in the siding. Hey, don't sweat the small stuff, right!?!?!!!

The cover really is easy to get on and off after watching Semperfi8387 video's a few times. It rolls up nicely and fits into one of the front corner seats with a small nudge.

I settled on the Hot Sauce for cleaning – it did a nice job removing the water spots after the week (though I did do a self application of a ceramic coating prior to the first outing– I think that also helped).

No issue using a wash mitt and gliding between the toons to wipe the bottoms off, not much growth after 10 days on the water.

Since my boat was stuffed, I screwed in a nylon strap and buckle for the rear battery compartment cushion and cushion in front of the helm – neither of which are attached and both had been reported as "missing" after long tows by other owners = no issues, they were both intact after our 5 hour drive.

I found the double Bimini easy to put up and really appreciate the extra shade. The side and underwater lights were a lot of fun, the underwater light did attract some little fish. The interior lights (speakers and cup holders) were not enough to really be useful in the evening, so I am going to have to figure something else out (you can't really see what you are eating or pouring – not sure which was more important). I am not convinced the factory Bimini Lights would have been much better, we really just want something to light up the two tables and the "bar" section between the front and rear. I am noodling on solutions……

I found a magnetic door latch on Amazon that worked great. It did take some work to get it installed properly (the adjustment screw needed to be below the door frame – silly, should have been on the back of the bracket), but it held that front gate open and when closed, nothing to stub your toes.

At the end of the week with my clan of 6 plus another 10 guests all hanging out at various times (our coolers were full – not sure if that was the error or it was just the appeal of this amazing machine), there was definitely a bit of a mess to clean up. I opted for the Dewalt battery powered pressure washer. While the reviews were not great, one boat owner said it was perfect and I found that to be true – easy to use, worked with existing batteries (really the key item), and I only needed a light spray that did a fantastic job of cleaning the floor, getting sunscreen off the seats, and the whole thing looked new again (ok ok, other than those few dings). The manual says not to power wash, but I could run this over my toes (well, I did run it over my toes) and it was about equal to the pressure I could get from a hose spray nozzle. But, the light fine spray was just enough to clean that Simtex and floor without having to scrub every inch with a soft brush (which on that grease stain caused more of an issue than this washer) which from my reading is critical to keep mold at bay and the fabric from looking forever new. No access to fresh water, so we did it while on the lake.

Next Chapter – packing the boat and perfecting the puzzle of getting too much stuff on board.

Bennington, thank you for an amazing boat!!!!