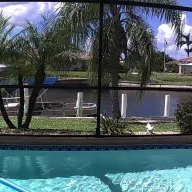 Messages

34
Reaction score

5
Location
Took my privacy cushion off to sew several areas where threads were coming apart. (Toon not under warranty). I have a 2014 SF22. So the inserts in the plywood were rotted and fell apart when I took the bolts out. The bolts to re-attach have nothing to bite into. I tried flange inserts - didn't hold even with loctite glue. If I use the gas struts and close the top, too much force on the hinge. I can't set a nut in the wood for the bolt to screw into (no way I can think of to set it and keep it there).

I was wondering if anyone has taken the hinge off and moved it over a little bit. That way I can bite into some wood. Or has anyone added another hinge in the middle.


If you have and other suggestions, please give them to me.