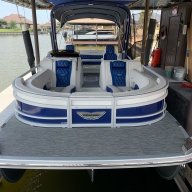 Messages

224
Reaction score

216
Question about lifting strakes on the outside of the outer toons. I dont think Bennington uses them? or do they?
Manitou uses them. My next door neighbor has them on his Aurora 25' w/ 250 Evinrude 2 stroke. It is a 2019 model.
One day he was bragging about how fast it was, like over 50 easy. I told him no way. At the time I had my 2020 23RFB
w/ 250 SHO motor, 45-46 MPH w/ very strong acceleration. Well one evening we met out on the lake, We both put them in gear
side by side and said go. HE ate my lunch big time, when I let out at 45 MPH he was light years ahead of me.
So my question is-Do the outer side strakes work? Why dont Bennington use them?