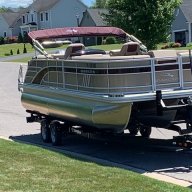 Messages

40
Reaction score

69
Well I made it through my first summer with my 23LFB Tritoon -had tons of fun and learned a lot!
The next learning curve is the fall to winter storage process.
So, after pulling it out of the water, I took it to the dealer for winterizing the motor, because Yamaha requires it to keep the warranty.
The dealer is awesome and very friendly, but I will definitely do this myself when the warranty is up.
Next, I have room at camp to store my Toon, so I had it shrink wrapped, which seemed to be a good way to protect it during the winter months.
The shrink wrap job is great, covers the entire deck and has vents in it. But, it was not cheap and I will be opening the Toon in the spring like a Christmas package and throwing the wrap out -and then do it again next fall...
I was wondering if many of you use a winter cover that can be installed and then removed?
My camp is in Northern NY on the St Lawrence near Ogdensburg, so it looks like the area has 60" plus annual snow fall -not bad to me since at home we get 120"+
I looked and it appears that they range in price from $600.00 to over $1,000.00, so it wouldn't take too many years to result in great savings vs shrink wrapping.
If a good cover would protect it just as well as shrink wrapping, what brands & types would you all recommend?