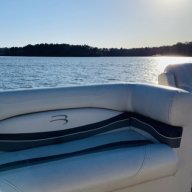 Messages

23
Reaction score

44
I'm a fairly new boat owner & need some help. We bought our 1st ever boat in August 2019 & it's a '04 model 2275RFS which is powered by a '13 model Suzuki 90HP. It's based on Lake Hartwell GA & came equipped w/a 3 blade 13.25X19 aluminum Prop (I have to say this prop is a bit ragged around the edges). The WOT RPM (w/a lightly loaded boat) is 5000 w/a top speed of 23. The Suzuki owners manual says this motor (DF90A) should be in the 5500 to 6300 range. We don't pull tubes or anything else for that matter & usually just tool around the lake with 4 - 6 adults onboard & take in Sunsets.

Bottom line is that while I'm not necessarily a speed demon we would like the motor to run in the proper range of WOT RPM. A local mechanic recently checked the TACH (it passed) & suggested we try a 17 pitch or maybe drop to a 15 but before ordering a new prop, or 2, I wanted to see what other owner-operators might think. Also, before I forget, I've read where 4 blade props help with low speed handling so I'm wondering if going with a 4 blade makes any sense.

Any and all help is appreciated, thank you!