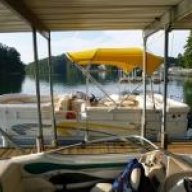 Messages

82
Reaction score

54
Good late afternoon all. Sorry this report back took so long but we finally mounted the 3 blade 15 pitch Rubex 3 late last Thursday afternoon with very light Lake traffic and zero wind. I was onboard solo with my 25 gallon fuel tank at 3/4 full. WOT brought TACH to 5600 with a Top Speed of 26MPH. As for the 17 pitch prop, knowing that mounting it will almost certainly drop the WOT RPM back down to somewhere between 5600 and 5000 (that the old chewed up 19 produced) I'm thinking why even bother. I'm happy with the #'s the 15 has delivered. Factor into that the 15 was brand new in the box & all I paid for it was a bottle of decent 12 year old Scotch. That's it, just wanted to report back with the #'s. Thanks again to everyone for their feedback and have an excellent evening!
That's really good news! Even at a low weight, 26 MPH is very good and no better proof that 25" tubes with lifting strakes work. As noted above, additional load, and it's distribution, will reduce top speed. With only 90 HP on tap, expect to loose 4-5 MPH with, say, 6 adults + beer (scotch?). Hard to say how additional load will effect RPM with that prop. It's possible that slip will increase enough that WOT RPM loss will not be a big deal. I'd love to see you try our Spitfire 13p pontoon prop (4-blade aluminum), but it's going to be in use for the foreseeable future.....
I expect our next pontoon will have larger logs (currently have 23") and strakes.