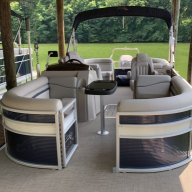 Messages

138
Reaction score

212
Location
Well, I finally have the SideShift Thrusters installed. I have attached a few photos for information. The helm control is a Bluetooth joystick. As basic as it looks. Up/Down/Left/Right. So easy a Marine can understand it.
The next shows the arm extended, length is 32". Here is where I can use the group's help. What is the draw on a 23 foot Benington? What I am trying to determine, with that arm deployed, is how far down in the water will the base of the thruster propeller be? I want to know how deep I need to drop the lift so the unit will clear the lifting racks. Does anyone know the draw for the pontoons ( I think that is the correct term for how low the pontoons are in the water).
In the third and fourth pictures, the arm closed.
The last one is the battery compartment with the digital meter/fuse box and motor relays. This is mounted over the unit in the bow.
I Will have some time this weekend to practice with the unit, let you know how that goes.