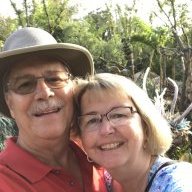 Messages

290
Reaction score

397
Location
We have all benefitted from Benningtons Bow to Stern 10 Year Warranty. So when my dealer submitted a Warranty Request I was greatly surprised when they denied my claim.
My Port Aft Rub Rail is apparently rusting underneath the tape. Being this part is Anodized Aluminum this shouldn't happen. In the picture below you can see the the two "Blisters" and the Rust staining.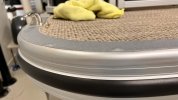 The Service Manager agreed that this must have been a manufacturing defect as the Anodized Aluminum doesn't rust unless there was some damage during the assembly.
The other bothersome issue seems to be the tightening of Warranty Claims by the new owners of Bennington. Hopefully this isn't really happening. Bennington's reputation has been so unbelievably good historically.
Anyone else facing denials of what should reasonably be warrantied???
Here is Benningtons reply:
---------- Forwarded message ---------
Date: Fri, Sep 16, 2022 at 8:29 AM
Subject: RE: Rail rust 2018 22SSXAPG ETWF5866A818
To: Ridgeline Boating
Good morning Abby,
Corrosion is not covered under warranty.
It looks like the non skid tape need replaced though.
004918 TAPE, NON-SKID, 1-7/8" X 150' 149484-01, SILVER
Bennington Pontoons
Regional Customer Service Representative
Territory: North Eastern United States & Florida Peninsula