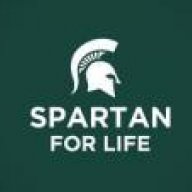 Messages

2,860
Reaction score

4,086
Location
I like Yamaha over Merc for many reasons, but both are good Motors. Either will push your boat and get the job done. I personally would stick with Yamaha and will not by a Merc for anything other than a bass boat after owning yamaha. Here are a few reasons.

1: Noise while idling around the Yamaha is soo much quieter. Easier to have conversations on the boat.
2:Hole shot and overall performance of the sho you can't beat.
3: Reliability and longevity. Maintenance is easy to do yourself.
4: looks, my sho looks amazing on my Benny with the metalic blue paint.
5: Resale value. I personally believe pontoon owners specifically seek the Yamaha motor for the reasons above over the merc and it helps with resale. The performance Merc is Just too dang loud when your near it on an open back boat like mine. I have fished on many bass boats with mercs and Yamahas.

This is just my opinion, take it with a grain of salt. But I do suggest you listen to both motors and make your own decision.
I cannot help but quibble the above points with my opinion.
But lets face it, this is an endless rabbit hole here when we all start spouting off about our motors. The fact most all of us LOVE our motors irrespective of manufacturer really tells me they all do a pretty darn good job.
But…I cannot help but to counter some of the above Yamaha v. Mercury perspectives:
1. Not sure on standard Yamaha vs standard Merc for the first 3 points above. There is actual decibel level testing one can refer too. I think they are often so close it wouldn't be noticeable either way on some models/HP motors, and then really noticeable on others. I just think people do a horrible job of comparing actual apples to apples when it comes to sound and performance. I think the quieter motor really depends on the HP/model, as they seem to shift back and forth. I know when my 200HP Mercury Verado Pro is running but at an idle, you cannot hardly hear the thing. I don't know how many times we've had to double check it. It is the quietest boat at 200HP I have ever sat on at idle.
2. Haven't looked at the data, or ran them side by side, for standard Mercs v standard Yamaha motors. However, I 100% disagree when comparing the performance models for each: Yamaha SHO's and Mercury Verado Pros. The Verado Pro in the 200HP and above, especially with the supercharger, has a distinct edge in hole shot, and its power arc through the throttle range compared to the Yamaha is much better IMHO. I'd put my Verado Pro up against the equivalent SHO any day on the identical boat. I'd expect them to run very close, but with the right props the Mercury Verado Pro should get the jump on the SHO and then maintain that edge throughout its run. In recent boat comparison testing on pontoons, the performance on the Mercury line up edged out the Yamaha.
3. I honestly don't know the reliability and longevity side of the two. I'd wager the Honda's would edge both out, and you also see a lot of Honda's on a lot of deep sea type boats. I always wonder if you see the Hondas and Yamahas on larger body of waters more internationally due to the international reach and parts accessibility internationally…? However, I assume all the major manufacturers are pretty equivalent if properly maintained. Not sure who has the edge on less consistently maintained motors, but I'd lean Honda over the Mercuries or Yamaha's.
4. Ummm…no. But who knows, maybe we both have bad taste In outboard motor aesthetics - Ha, ha. I think the SHO is sharp looking, but probably because it more closely resembles the Mercury color scheme than a Yamaha one. So normal Yamaha vs. normal Mercury, hands down the Mercury looks better IMHO. Performance models, SHO/Vmax vs Verado Pros, then really a draw in my mind. Both of the performance model cowls look sweet. I'd love either hanging off the back of my boat looks wise.
5. Resale values and estimates just don't indicate any difference on a pontoon boats resale value based on it having a Yamaha or a Mercury. Basically determined exclusively by amount of HP and condition and age fo the motor. Between these two motor manufacturers, the resale value equivalencies is born out in listings, sales, etc., with some slight regional impacts going either way here or there nationally. I have no idea if that is different for other sorts of boats. Could be. But it is not when they bare mounted on pontoons.