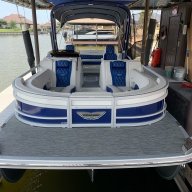 Messages

95
Reaction score

65
These are exactly the same motors. The only difference is a computer tune? Every single thing is the same. All 3 motors can be tuned to make 338 HP. The 200/225/250 HP can all make exactly the same power--What a scam Yamaha has on this!
The only thing different is that Yamaha recommends 90 Octane on the 250..
If i ordered another boat I would get the 200 and retune it and save 5k..