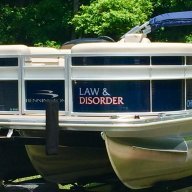 Messages

25
Reaction score

54
Location





I finally got around to changing my factory fixed height pedestal to an adjustable height one.
All holes lined up, no drilling no cutting. The factory pedestal sat too low for me.
The lowest setting raised my seat up about 3" which was perfect for me at 6ft 4". Keep in mind, it is a 3 to 4 beer project. You will also need a helper to hold a screw driver.
14 bolts 9/16 hold the side skirting on and 6 screws and nuts hold seat on. You will have just enough room to get your hand under the skirting to reach the bolts. Someone suggested that you tie a string to ur wrench Incase you drop it, which was a good idea. I also suggest sliding a thin piece of cardboard on top of toons below pedestal when removing nuts and washers just Incase you drop one.