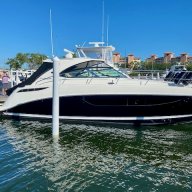 Messages

3,010
Reaction score

1,037
Location
I've been very impressed with the
AO Coolers
over the years and I know some of you are too. IMHO, they're sort of the "Bennington" of the outdoor soft cooler market, very much the best in class or close to it, with great customer service.
http://www.aocoolers...cfm?category=22
. Think Jeep rugged.
They have done many OEM marine versions with factory logo's, specifically for high end offshore boats, such as Sunsation, Eliminator, and others in the west coast crowd. When I participated on the Malibu Ski Boats discussion board, they supported some huge group buys, even creating a new model (Stow-N-Go) just to fit the extra low profile of the Malibu seats.
http://www.aocoolers...cfm?category=15
Members were thrilled with the product and it's durability under harsh use, and subsequent buys were arranged.
They do have several stock versions available to fit the spaces on various Bennys, such as the coffee table cooler, behind the raised helm, inside the helm, among others. I plan to get the "Small Family Pack", with "deluxe" options, which includes 24 pack deluxe version for my coffee table, a 12 pack for short trips, and another 36 pack for behind the helm on long days. For example, the MSRP for this combo is $145 plus $10 each for the deluxe options and $25 for embroidery, so $190 for that package. Not cheap, but they'll definitely last much longer than any soft cooler you have now and perform better as well. Bottom line is I think a Bennington deserves coolers of this quality level.
One sticking point was that AO did not have permission to use the Bennington logo and there is also a setup charge for custom embroidery. Working with a very busy TB and a gracious Bennington Marketing Manager, I gained permission to use the logo as well as the custom embroidery file they provided to me, ONLY for purchasing by CB members for a limited time, coordinated with this vendor's offer. Bennington has their own agreements with promotional logo goods providers and we certainly don't want to interfere with that.
Here is the offer AO made to Club Bennington members:
- AO has agreed to a
15% discount
on any combination of products, during a fixed period, as long as we reach
25 sales
. The setup fee is
waived
for the bulk purchase.
- AO provides a
discount code
for member use only, which would be available through me
via PM
, not to the public.
- All purchases must be made during a
2 week period
, after which they would produce the entire lot, and ship directly to you once the
entire lot order
is produced and filled. Ordering with the discount code and logo would then be
closed
.
- All payments would be
directly through the AO commerce site
, so it is a transaction between you and them, not involving CB here in any way.
The purpose of this thread is simply to gauge interest to see if we could generate enough orders to meet the discount tier. If we decide to move forward I would create another thread for that activity. If not, I'll just go on with my original order for my personal use.
Please just vote
YES or NO
for your interest, assuming we could do this for the early August time frame. It would be helpful to know what products you're considering for a quick look at the volume, in case we have big buyers, but come under the limit for individual orders.
I'll be first, so here is the format, just copy and paste what you think you'd want:
Products: (1) Small Family Pack, deluxe versions, charcoal color, silver Bennington logo
--------------------------------------------------------------------------------------------------------------------------
**** UPDATED BELOW WITH ORDERING INFO 9/27/13 ****
OK friends, it's taken a long time, but the 
AO Coolers
 group buy is finally ON! To order, select the items you wish to purchase on the 
AO Coolers
 site. 
To add a Logo (+$9.95 per item):
Enter 
"Bennington Logo"
 in the 
"Embroidery Text"
 box along with the colors.
Note the 
logo image is only 3.75" wide by 0.8" tall, but it should be a nice touch on the coolers.
To add a Boat Name (+$9.95 per item):
Enter 
"Please add boat name xxxxxxxxxxxxxxxxx"
 in the 
Additional comments:
 section on the "Order Options" page at checkout.
For 15% discount:
Enter the discount code 
"bennclub"
 in the 
Coupon or Gift Certificate:
 box at checkout, click "recalculate", and it will show your 15% discount for the total order.
As I understand it, they will WAIT until the enrollment period is over to ensure sufficient volume, then run the entire lot at once. All transactions will take place directly between you and AO Coolers, as neither Bennington or I have any involvement other than facilitating this.
Please do PM me when you have placed your order so I can keep track of progress towards our target of 25. I don't need to know any specifics, just that your order is in.
If you have any questions contact AO Coolers directly via email 
info@aocoolers.com
 or phone (951)-582-9758 and they will be glad to help you.
Tom
Last edited by a moderator: