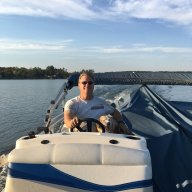 Messages

12
Reaction score

4
Location
I always fill my boat tank from a five gallon gas can. The stock filler is a flip-up snap shut cap that makes it difficult to fill with a can, especially these new "safety" types. To fix that issue I bought some regular spouts from Amazon that don't have the "safety" feature. Sorry government, but I'm smart enough to use a gas can without spilling fuel everywhere!! Grew up on a farm around all kinds of equipment way before these safety spouts were made, and used more than one Jerry can while in the USAF.
Anyway, I went looking for a better gas filler. It helps that my boat is an older model (1999 - yes, it needs paint, hopefully later this year...) -- makes it easier to cut on it! I settled on a Jeep CJ-7 filler, cap, and neck. The neck has short 1.5" section that has an adapter necked down to 1.125". This only leaves about 1/2" for the stock 1.5" filler tube of my boat to go on. I had to notch the tube a little where the vent line nipple leaves the neck to get a good fit, but it works fabulously! I use a stock CJ-7 gas cap that I drilled for a "leash" so I don't drop/lose the cap.
I haven't driven the boat since putting the new filler assembly on, just cranked it and made a quick circle around my cove. I don't think the 1980's CJ-7 cap is vented, so don't know if a non-vented cap will be a problem as of yet. I don't think it will, but using a non-vented cap on a tank that is made for a vented cap (the stock cap isn't a perfect seal) can lead to stalling as the fuel pulls a vacuum in the tank due to fuel starvation. The quick solution is to take the cap off then put it back on -- it will run quite a while before it needs "cracking" again (at least as far as it ran before stalling). The long term solution is to get a vented cap. Most 1960s and early 70s model vehicles used a vented cap that has a one-way valve so it can suck a little air in but not let fumes out. Finding one for an older model Jeep will be easy enough if necessary.



Parts used (total of $66.14):
https://www.amazon.com/gp/product/B000FPXTPS/ref=ppx_yo_dt_b_asin_title_o02_s00?ie=UTF8&psc=1
(you can get this in stainless steel also)
Buy Omix-Ada 17743.01 Fuel Filler Neck: Filler Necks - Amazon.com ✓ FREE DELIVERY possible on eligible purchases
Buy Gates 31629 Fuel Cap: Fuel System - Amazon.com ✓ FREE DELIVERY possible on eligible purchases
Takes under an hour, and makes filling from a gas can (or hose!) much easier!!
The spouts I ordered:
https://www.amazon.com/gp/product/B08883FMM8/ref=ppx_yo_dt_b_asin_title_o03_s00?ie=UTF8&psc=1
I drill a 1/16" hole in the spout end cap ridge for a small wire, with one end attached to the cap (through the hole) and the other end wrapped around the sout between two ridges so I don't lose it.