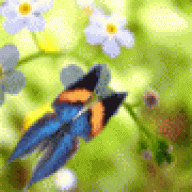 Messages

57
Reaction score

1
Location
We have a yellow jacket problem in our area and one of their favorite nest building sites is inside the bimini frame.
We used Great Stuff on our old pontoon to fill the space....but it was a MESS. Stained a few seats when it dripped.
When we picked up our new boat a few weeks ago, I asked our dealer if they could get us 12 end caps like the ones used on the playpen.
Had to use an exacto knife to notch each one to fit around the bolts. (Very soft plastic/ easy to do)
In about 15 minutes. Problem solved. No muss, no fuss, no bees.
Highly recommend this quick and easy project!