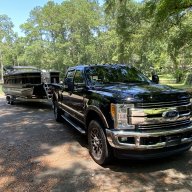 Messages

2,011
Reaction score

2,049
Location














We made it to TRL. Beautiful lake, and on the first day out, I've already lost another anchor.
It got tangled on the rock below. Now, does everyone understand why I don't buy those $100-200 anchors?
Going to put in the river below the Spillway, today, and cruise along Branson.
The group at the table were pulling up to the dock at the same restaurant as us. We got to talking, and the asked us to join them. They were from Illinois. Had a great two hours with them.
Last edited: