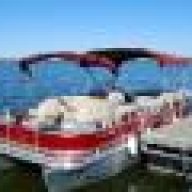 Messages

182
Reaction score

0
Sort of a minor question now, but since everyone seems to like describing exactly their pontoons, wondering if you could help me properly identify what 2010 model Bennington I have. The serial number of the boat is ETWC2217C010.

I have called it a 2275 GFi because that is what the dealer (Whittle Boats Lewisville, TX) described it as on their website and in sales documents. They currently show a boat identical to mine as a 2011 2275 GFi.

After 8 months of ownership, I was trailering it home from the lake yesterday and looking in the rearview mirror realized the sticker on the bow said 2275 GLi. It also has a 2275 GLi sticker on the starboard side rear.

In looking at the 2010 and 2011 brochures, the floorplan is exactly a 2275 RFSi (2010) or a shorter 2575 GFSi (2011). It came with a hybrid of standard features from both G/F and R series models and other optional features (32" elliptical tubes, double bimini, rear activity deck with vinyl floor, stainless steel LED docking lights, bench seat livewell) and I added other stuff.

Thanks for your help.