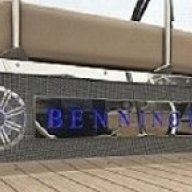 Messages

288
Reaction score

405
Well I was going to start a thread on here tonight about how happy I am with the new boat and how I think it's the first time that I received a new boat and everything was perfect and no issues whatsoever. It was the first real day on the lake (other than a bit of prop testing) and things couldn't have went any better until I got her loaded back up on the trailer and back home. That's when my heart sank. Out of the port side log where the nose cone is welded on was a very steady drip of water. The I rocked the boat side to side and sure enough I hear water sloshing around in there. It's pretty much worst case scenario for me as I bought the boat 2000 miles from home due to a falling out with the local dealer (who is still 300 miles away).
I'm very disappointed with Bennington at the moment. Sure my last boat (South Bay) wasn't quite as "pretty" as this one but at least the darn pontoons were water tight. It seems like Bennington might be focusing a little too much on cosmetics and maybe not quite enough on making sure it's seaworthy as there seems to be more and more of these incidents
Sorry about the long rant but I needed to vent.