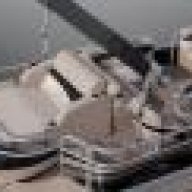 Messages

4,263
Reaction score

2,092
Is there a friction adjustment for the throttle control handle? My throttle lever does not stay put in the upper RPMs. It slowly drops back to a lower level. I have to hold it in place, and it's hard to turn the wheel with one hand and one knee when pulling a tube!

Seems like someone posted a question about this a while back, but I can not find it.

Far as I can tell, I have the Mercury 4500 Gen II model remote control. I can't find anything about it online. Searched for over an hour.

I took the cover off the handle when we were out, and I could not see anything obvious that looked like an adjustment screw. Maybe there's an adjustment at the motor end of the cable? I have the 115 Merc 4-stroke. New in 2011.

Thanks!