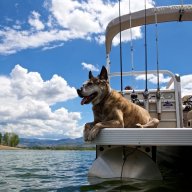 Messages

1,136
Reaction score

722
Location
I finally brought the boat back home from storage after my trip last week. Having it stored 400 miles away has made keeping it clean a challenge, so we spent the entire day today cleaning every little nook and cranny. Every single thing came off the boat. My wife did the inside and I did the outside. The best part by far was finally using a vinegar solution to clean the exterior. Someone mentioned in another thread that they used diluted vinegar to keep their boat clean but I'd never done it. I'm not sure why as we use it to clean things in other aspects of life. Anyway, it blew me away how well it worked. I used to get out the hose and the mitt and wash the whole thing down just to be annoyed that the haze and water spots were still all over the place, especially on the metal parts and the motor. But today I cleaned the entire boat exterior with just diluted vinegar and it looks better than ever. I did finish off the panels with some
Mothers Marine Spray Wax
, but the photo below is purely thanks to vinegar. I swear my boat is cleaner right now than the day I bought it. 
On the inside, we had so much sand in the carpet that it took my wife a good 4+ hours to vacuum it all out. First the shop vac, then the Dyson, then the Bissell. I emptied the Dyson for her once and I swear there was at least a few pounds of sand in there! I
really
wish I could rip that all out and put full seagrass in! 
Towing 400 miles to Lake Powell sucks, but it feels great to have the boat back home in the back yard and all cleaned up.
Last edited by a moderator: