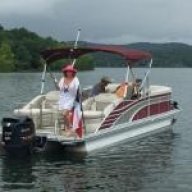 Messages

213
Reaction score

68
No problem having the party on my Benny. Just have to move some diaper bags out of the way. Jared, you just as well come on down and join us. We have room and Iowa is not that for. We have friends that come down from Stuart Ia. I still have some things to get done before July and I can't believe how fast time is flying by.

Hope everyone is out of harms way with all the blasted toronado's. I was thinking of you and your family Marc. Looks like you have had storms on both sides.

Jeauxboo, you making room for that 2575? Waithing to hear how the test drive was..

Have not heard from Jack in  a while. He must be napping...