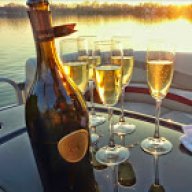 Messages

337
Reaction score

53
Location
Hello All,
So I was detailing the helm with the marine wax and what at first glance I thought was a bug, ended up being something much worst!
I noticed a 1/4" hole in the helm, and the finish or layer of the helm that was caved in, is sitting inside of the hole.  It does not go through to the other side, it's just as deep as it is wide.  I am picturing a bubble near the surface of the helm while being manufactured.  the part that was the exterior is thinner than a piece of paper or eggshell.  Obviously this is not standard helm thickness or the slightest touch would crumble the entire helm!
i just went back to review the photos I took at the dealership and there is some coverup or repair that is obvious in the picture that I did not notice earlier.   
Zoomed in:
After wiping with terry cloth towel with key for scale: