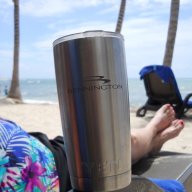 Messages

1,038
Reaction score

119
Location
Soo, we where out at the lake this weekend at the "party cove", after a couple of hours, it was time to go for a cruise. Time to pull up the anchor, give the line a good tug, like usual, but she's really tough to pull. Well shoot, i must be really stuck in the mud, Brenda's laughing at me, calling me a wimp and all.

Well, now i really pull on her, the toon dips down, she's coming but really heavy. Had to tie it off about halfway up to catch a rest. Now i'm really hearing it from Brenda! After a minute i go after it again, and much to my suprise, i've hooked a big fluke type anchor, rhode chain and 100' of 1/2" rope!

It was all pretty muddy, so after getting things untangled, my box anchor cleaned and stowed, i took a few minutes to clean up my new find, it cleaned up real nice and looks to be fairly new.

So i got me a new anchor this weekend!