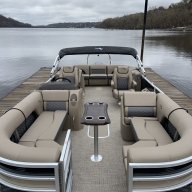 Messages

73
Reaction score

89
I started looking at multiple brands then narrowed it down to two, even had a post removed for mentioning the other brand of whom I will never speak of again... I also started with an SV (base) and thanks to this forum... I have moved from an SV to an S to an SX and finally landed on a 23 LSR... for crying out loud! After all my research Im pretty sure I could be a sales person for Bennington... Im still wondering if sales peeps are trolling these forums and laughing when the read posts like this... "hahaha, we got another noob ;-)"

Well, here it is, the final build, deposit down, take ownership this spring! Thanks again for all the help, the fact that a forum like this exists says a lot about the brand!

No going back, no more changes... wait, can I still make changes????