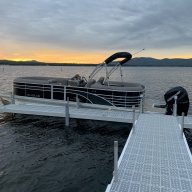 Messages

27
Reaction score

31
Just bought a G23 with a Mercury 250XL

Owner before me says that he experienced porpoising at WOT. He was correct..
Trim is at 2 when occurs. Motor is mounted on lowest position, highest hole.(meaning it has a lot of room to come higher out of water)
My belief, and all that I read is that this is caused by the motor being mounted too low in the water.. Drag is causing boat to push down at higher speeds, creating issue.

Be curious to hear what the group has to say. I am getting 48 mph, but I think that over 50 is where I should be and that I shouldn't have to run at such a flat trim. i.e. I should be able to get that bow out of the water more, way more, and help gas guzzling a little too...