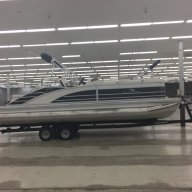 Messages

58
Reaction score

76
Location
Decided to pull the trigger on a new build after searching all over the west to find a dealer that had what we wanted with no luck. 
We are ordering a RSB2375 with a Mercury 300 with all the goodies in the Smokey granite with Metallic White accent with the glacier white upgraded upholstery and carbon accent, elevated helm, double Bimini, recliner upgrade,Simrad Gps G05, seagrass flooring ,etc.etc..
But I have a few questions,
Does anybody have the heavy thread top stitch ? do you like it ? is it worth the upgrade? 
What prop are you running with the 300 ? what speed can I expect ?
Looking forward to getting her and spending many summers on the water .
Well after waiting over a month and still not receiving any confirmation from the dealer that Bennington had confirmed the order. I made the decision to cancel the order with my local dealer,
it was a difficult 
decision .
However in the end this has worked out for the better .
I eventually started some talks with another dealer and had them price out the build, I literally feel out of the chair when they came back with the price, beating my local dealer by huge amount after expenses traveling and all the misc. by well over 15K . and almost 28% off of MSRP.  I reexamined the build and added the Heavy top stitch and the VesselView 702 .
I gave the go ahead and received a confirmation within 72 hours . its been two weeks and the dealer has kept me very well informed. I'm hoping to take possession around the beginning of August with fingers crossed.
The Best part is it will be built as a 2018!!!
Now the suspenseful wait!!
Last edited by a moderator: