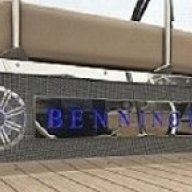 Messages

291
Reaction score

406
I know what you're saying but I think you'll have to do some testing to get your answer unless somebody comes up with a wiring diagram for the swingback, specifically with the stern speakers.
My guess is that the stern and rear speakers are 8 ohm and the front are 4 ohm. You'd have to verify that with a multimeter. I say that because if they are 4 ohm, like most car/boat audio speakers, and they just spliced them together then they'd be running at a 2 ohm load and most head units aren't rated for 2 ohm loads. That would be the first thing that I'd determine if you want to rewire it to the way that you say.
As for splicing into a speaker for signal, you'll want to run it off of one that will be on all of the time. If you do rewire your system so that the stern speakers won't always be on then you'll have to tie into a different speaker. Also, for the sub, it doesn't need signal from front and rear or even left and right, for that matter, as it is mono (the amp on the sub will require signal to left and right but that can be fed from a left, right, or both and will work just fine).
Last edited: