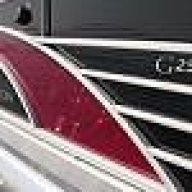 Messages

2,268
Reaction score

1,850
Location
Okay, I need a bit of advise. Installed the RF P300 about 8' from my batteries and it will only turn on for about 30 seconds before shutting down again. I checked all of my connections and they look to be good. Looking through the installation instructions, it does state that the ground should not be over 30"! So, is that why my unit won't work? I had an amp on my bowrider that had a longer run than what I have now and it worked great.

Some other things to note: I was unable to find a 20 amp fuse locally that would fit my Blue Seas Safety Hub so I had to buy an in-line fuse afterall. They had 40's, 50's and higher but nothing smaller.

I also figured out that my subwoofer will only get the output coming through the left channel because in my situation, I don't have access to a right side speaker to tap into. Not too concerned because most bass is produced through the left channel so I kind of lucked out in that respect. However, because I can't move the unit closer to the battery, it might be a moot point anyway.