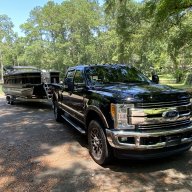 Messages

2,011
Reaction score

2,050
Location
I haven't been on the forum much in the last couple of weeks. Two weeks ago, today, my mom and uncle rushed my dad (my hero) to the emergency room. He is a lifelong asthmatic, emphysema, and has COPD.

When I got to the hospital on Saturday afternoon, they had already admitted him to ICU. They found that he had Pneumonia in one lung. My dad had a fear of suffocating in his eyes. He was having a terrible time breathing. It was heartbreaking.

Now, the following is a series of condition updates that my brother and I posted to keep the thousands of prayer warriors informed. If you believe in God, this will show you evidence of his mighty power. If you don't, then I'm surely not going to beat you over the head with my religion. You can simply believe that he's a very lucky man.


Starting last Saturday, this is the last two weeks of our life.




Sunday, September 9, 2018 9:57AM


I would appreciate your prayers. My Dad is in the ICU with a tough hill to climb fighting double pneumonia. Grateful for so many who made it possible for me to be here with him. We really need some prayer warriors!



Randy's post: 7:19AM


To my friends, I'm asking for prayers for my sweet daddy. He's in critical condition, in the Baptist ICU. He's got double pneumonia, and is in a vulnerable state at this time. The doctor said he's got a big hump to make it over. His body is weak. They don't move him because they said he's body couldn't take it right now. God is good. God knows his needs. God knows how much we love this man.