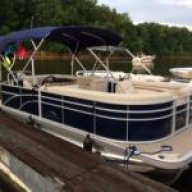 Messages

2
Reaction score

6
I just wanted to to help anyone who is leaning toward a 150hp as apposed to the 115hp.  Our Bennington is a 21SLX with the SPS TriToon package.  I opted for the 150 Yamaha V-Max SHO.  I slalom skied for the first time this weekend.  I am 5' 9" and 180lbs.  It popped me right up.  We had 3 adults and two 4 year olds in the pontoon. The wake was nice and smooth.  My ski didn't even skip at all.  Less wake than a Pro-Star Master Craft.  I am way out of skiing shape so my speed was around 28mph.  This boat will pull a slalom skier 32mph, no problem.


The Pontoon ran 38mph with 2 adults and one 4 year old.  The bimini was up and hardly no trim.  I project it will run 42 with the Bimini down and a little more trim. 


We ordered the 21 SLX, SPS Tri-Toon, 150 Yamaha VMAX SHO, Garmin Echo 43d, Ski bar, Vinyl Flooring.  No other upgrades.   
Last edited by a moderator: