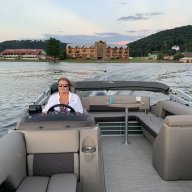 Messages

2
Reaction score

2
Hello, first post here…..

I bought a new SX23 Premium in 2020 and it has two batteries plus an onboard charging system. The first summer I didn't charge the batteries at all and they were on "ALL" switch (which means both batteries). It worked fine until the end of summer when the whole boat went down. I went out and bought two brand new batteries at the end of the summer 2020. This summer I started charging the new batteries all night before taking it out. Since this is at our vacation condo, we usually just ride on weekends. And, after studying on it I now use "1" mostly and "2" as a backup.

This summer my alarm is going off again indicating that batteries are low. A couple of friends with Bennington's never charge their batteries, have just one, etc. and it doesn't seem to be a problem like with mine. My question is something wrong with my auto charging system?

Again, I'll plug in my onboard charger all night before and still only get 6-7 hours out of each battery. I do run the bluetooth sound all the time and the depth finder half the time. Thanks in advance.
Last edited: