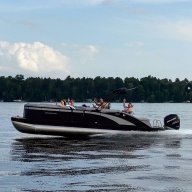 Messages

342
Reaction score

732
Here's a fun project to add exterior Pontoon RGB (color changing) LED lights. I did a ton of research and saved over a grand - total cost was under $50.
IF your boat is pre-wired for external lights (mine had the external package for the Swingback, but no pontoon lights installed), this is an easy mod. Some mild wiring, soldering and waterproofing is all it took for this project in my case.
All you need is the right connector - in this case:
The LEDs come in 16-foot lengths (three 5-meter strips), so you need to cut the third strip in half and solder together. I used heat-shrink tubing along with silicone to waterproof them.
The strips then stick on the inside of the rub-rail (that's how the factory does it - my neighbor's Benny is fully loaded and he let me look around to check it out).
The plug connects to all 4 wires as shown in the photos. Note that some of the pics were "test fit" trial-runs where I simply placed the pins in the factory plug to make sure it worked. As I noted my neighbor's boat is fully wired and I was able to match colors directly, and got lucky on the first try.
Best part is that the color-changing interior Mood lights and the external lights all sync perfectly with this setup! Both are 4-wire 12V, and the RGB dims, changes color and runs identically to the factory-order ITC units.
I'm not sure how durable this setup will be since it's only IP65 water-resistant, but I ordered a second set so I have another if this one goes out. In the month it's been installed it has worked flawlessly.
Next year I'll add the underwater lights. My boat isn't pre-wired for these, but there's a spare switch I can use to hook it up. Enjoy






Last edited: