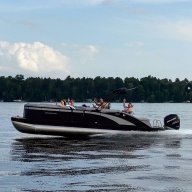 Messages

362
Reaction score

788
The two things my otherwise-loaded 2021 R25 didn't have was the side-LEDs above the toons (handled that last year:
http://club.benningtonmarine.com/threads/diy-color-changing-leds-for-pontoons-for-50.11343/
) and the underwater lights.
The side-lights were pre-wired, but the underwater lights were not (although I did have a spare switch to use). I'm always happy to DIY when I can save some significant bucks, so I found a nice set of RGB underwater "Drain Plug" lights on Amazon for $70:
https://www.amazon.com/dp/B07R3W4BJH
and set about installing them.
My boat is a tritoon and has the full waveshield underneath, so it was tricky getting the wire from the helm to the back of the boat. I ended up duct-taping 5 fiberglass rods (driveway markers) together, taping some string to the end, and fishing the wire from the cockpit through the access hole under the helm to the back of the boat on the starboard side. To help, I grabbed a Nest cam from the cabin and stuck it down the hole so I could see where I was going.
I'm very happy with the results!
I also added a Lexan cover to the helm to make an ad-hoc "glovebox." I need a magnet or latch, and will switch hinges so it sits closer to flush, but it worked out pretty well too. Posted photos below: