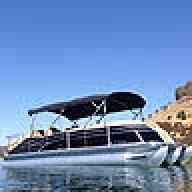 Messages

597
Reaction score

421
Location
The Dash switches on my 2012 2575 QCW are in my opinion not the best choice.


#1 they are not lit at night. (They light) once you turn them on but you better know where the lights you wanna turn on other wise it's literally "a stab in the dark"


typically you have to turn the overhead Biminis light on to see what lights you wanna turn on. 


#2 the switches trap dirt in the recess pockets and it's hard to clean


#3 the switches are black on the top 1/2 and Chrome on the bottom. the moment you touch them you leave a finger print.


my 2002 Ski boat has THE BEST hands down button panel.  All the switches are behind a rubber back lit dash panel. At night you can see what's What in a instant and because it's a smooth rubber pannel cleaning is super easy + it makes all the switches 100% waterproof.


I saw on a newer bennington the dash switches are lit and labeled, has anyone switched out their dash switches?