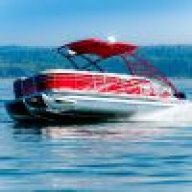 Messages

4,173
Reaction score

1,814
Location
Not sure if this is a dock talk or not, but whichever, feel free to move if you like.

I made myself pretty mad tonight. We gutted and are redoing our basement bathroom.  So we bought a 3 piece shower surround (could barely squeeze the center portion down the stairs, and as it is, completely gouged the wall from the end of a bolt sticking through) . So we set the base piece into the spot it will go, have to move the upstairs bathroom drains higher up so they fit inside the floor joist, so we grabbed the base to move it out of the bathroom. Well there is a wall right outside the doorway so we had to stand it on and end. Well wouldn't you know my luck, wasn't paying complete attention and set the base down on the screw flange on the front and when it got tipped up, broke the bottom part off!! Luckily it only broke off about 4" so I will drill a new hole up higher and hope to the all mighty reno gods that the tile will be thick enough to hide it! 

Now I need to figure out how I am going to mount a big shower panel that has a bunch of jets and a rainfall shower head and stuff all built into one, on the wall of this unit. I'm thinking I need to somehow attach a sheet of plywood on the backside with some adhesive and hope that will give it enough support. According to the UPS shipping weight it says it's 122lbs!! Never thought of that part when we ordered it! Eeek!