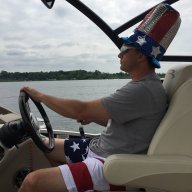 Messages

199
Reaction score

84
Location
We have found a couple choices for a new boat.  Our growing family has us looking for more power to play on the water.  What are your thoughts on either:

2013 2575QCWT (Sport Tower), Yamaha 300hp, ESP, 50 hours

or 

2015 Harris 250SL/DL, loaded, Verado 250Pro, Tri Toon, brand new

Both boats are loaded and are available from the same dealer at the same money.

I know this is kinda of a loaded quiestion, being a Bennington forum, and we love our Benny, but for the same money is a brand new Other boat a better decision than a used Super Bennington?   Should we be concerned with a used Yamaha??

If it were you, what would you do?