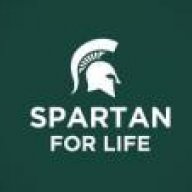 Messages

2,312
Reaction score

3,217
Location
So, now who is your pick to win the B1G West? (Cuz I gotta believe that the Badgers will miss 3 games)
My wife and I were just talking about this at lunch. If you drop below 53 eligible, it would be a 3 game stint. That'd be really tough. And you guys looked great last weekend.
I totally had the Badgers for the B1G West. IF Wisconsin ends up out of the running due to Covid, I really think its a toss up among the other teams. And whoever it is will get absolutely steamrolled by Ohio State for the championship - as much as I despise "that" team from Columbus - assuming they'd be able to avoid any similar Covid fate.
On the surface NW rolled, so maybe them. Purdue beat Iowa who has been fairly solid in recent years, so that puts them in the possible mix. And then you have the Huskers who were rolled by Ohio St, but that's Ohio St. Hard to get a read off that game other than the dang Buckeyes are living up to their hype again.