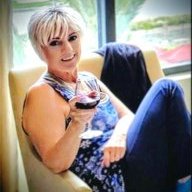 Messages

82
Reaction score

167
Location

Our Benny has a 2018 90 elpt EFI Mercury motor, and the throttle control tension/friction is far too loose.
We didn't receive any documentation from the dealer with our boat last year which explains "where" to adjust the tension.
I searched online, but almost everything pertains to Yamaha.
I called the dealer, and they said the screw is located at/near the pivot point for the controller. For the life of me, I cannot "find" said adjustment screw.
Here's a picture of our throttle control handle. Granted, we are very green to boating, so it may be very obvious to someone else... but does anyone else possibly have a clue "where" I should be looking?
Thanks in advance!
Last edited: