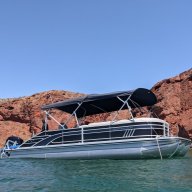 Messages

469
Reaction score

705
Location
Per my dealer service department:
Engine Issue:
The nylon pick up tube in the gas tank is attached to the fitting by heating up the tube and letting it cool. This connection point was sucking up air, which resulted in the fuel pump failing (M350). Apparently a known issue, both replaced - now working (not yet tested). Possible an issue with our 120 degree heat here in Havasu. I asked if they were able to include any type of clamp to prevent in the future - they said no. Guess I will have to hope and pray for next summer that I don't have a repeat - but at least we know the issue!
Other Parts:
After 7 weeks, still waiting for other parts from Bennington including the corrected capacity tag; plastic feet on the center fill seat; Floor storage seal; Active Trim on original order but not installed. Champaign problems......LOL.
Misc:
The lower plastic engine cover wrap cowl that is held on by 2 bolts will not align - "known issue, no way to fix, they keep popping out, Mercury has no solution".
Power Steering Loss: "The pump draws a bunch of power and often runs the batteries low - run on both batteries". Hmmm, but consistent with issues experienced where power steering fails and starts working when I switch over battery.
LED lighting color off: "No way to fix this, issue with quality of lights".
Gas Treatments: "Yes on the QuickSilver products QuickCare,Cleen,Store."
Bilge Pump - don't know why they don't wire direct - they re-wired so remains on with all other systems off (monsoons during summer means boat fills with water).
Prop Slippage / Loss of Power - going in reverse fixes - "Could not reproduce issue, checked nylon prop seal and hub - no issues".
Overall - happy with service, communicated well, pricing for 20 hour service, installing new under deck dock lights, Prop Repair and Bilge Pump Direct Wire $1,211. total.
Might have to take a Nov trip out - still 80 degrees at Havasu!
My best - Larry