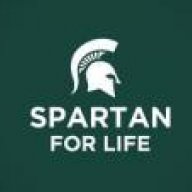 Messages

4,112
Reaction score

6,058
Location
Back in 2020 someone had recommended a spinning steering wheel knob as a simple way to really make water sports more enjoyable for the captain at the helm. I ordered one four days before our bought went down for the season back in May 2021.
Today was my first real opportunity to use it in earnest as we were tubing off and on all day long. One of the easiest and cheapest must haves in my mind. Makes ALL steering SUPER easy. And when doing water sports like skiing or tubing, forget about it. Cannot be beat.
Now the person that did this a couple years ago recommended a pricey one. I was cheap, and got the one below on Amazon for less than $20. Matches steering wheel black and chrome nicely. Putting this out there for others that might be interested.
I have no skin in the game here. Just recommending this to others that might be interested because it was wonderful having it today while tubing.
Amazon Link:
Spinning Steering Wheel Knob
What mine looks like:

Last edited: