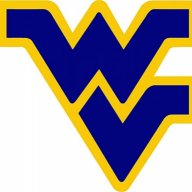 Messages

511
Reaction score

952
Yeah the interception killed them! Nobody is probably watching MD-WVU game because they're playing at the same time as Alabama but Maryland has scored on every possession so far!!! Ha!
Congratulations to you Daril and your Terps. You're team looked good and I expect a great season for you.
The Terps looked unbeatable in that first drive. I think our young defense was shell shocked. Then we settled in and actually held you guys to 3 points in the 2nd and 3rd quarters. Our offense was mediocre, but scored enough that the Moutaineers had control of this game until early in the fourth quarter. Mistakes killed us. 4 turnovers and an indisputable no call pass interference that opened the door to a Terps field goal were too much to overcome. Tagovailoa is a real talent. His arm is underrated (26 of 36 for 332 yards, no INT) but I was thrilled we held him to a net of 3 yards rushing with a long run of only 9 yards.