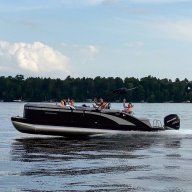 Messages

86
Reaction score

169
Well, I do love my swingback, so if that gets you the ability to go full-gonzo on the 56-gallon tank, I'd highly recommend. I've had the dual-lounger (RCW) layout and now the Swingback (SWB) and I think the SWB is the most versatile option available.
With my 350 I can tube all day at half-throttle and burn through about 20 gallons. At WOT, I'm burning fuel like I have a 5" hole in the tank - Burn rate is 33 GPH. Looks like the 300 burns around 30 GPH at WOT. Looks like the 250 Does about 26.1 GPH, and you're only losing about 3-5 MPH at WOT. Reference:
https://www.boat-fuel-economy.com/mercury-outboard-fuel-consumption-us-gallons
.
The big ponies are mostly for bragging rights. 250 and up is really fine, unless you're racing other 'toons on the water.