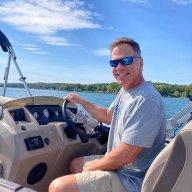 Messages

63
Reaction score

111
Location
OK, so a few of you know me... I recently ordered a 20SLG pontoon with a 90 Yamaha VMAX of which I will take delivery when it arrives this winter. I will begin boating in the spring on beautiful Canandaigua Lake, NY. Even though I grew up in Annapolis and had many boats in my youth, this will be my first boat in 35 years, so basically I'm a newbie (not really; I was super experienced as a teen and remember so much). This forum has been a blessing and a curse for me. Everyone is very nice and helpful, and I've learned so much. However, I've spent too much time on this forum. For the majority of the threads that I've read where a poster is inquiring about a new build, owners/members are always recommending bigger boats and bigger motors. Three logs. Lifting strakes. Simrads. Extended platforms. The list is endless as so are the expenses (it's so easy to spend other people's money!). All very logical and polite recommendations based on personal experience from all of you awesome owners.

But something horrible happened to me while reading the threads. I began to get disappointed in the boat I purchased before I even stepped foot in it. My Bennington won't have three logs. No lifting strakes. No monster motor (or motors). No Q Series. Seemingly everything that every other owner has... I won't have. For weeks I lamented my purchase, wished I could have expanded my budget, and tried to finagle how I could be someone like (you) who has something better than me. How messed up is that?

It then dawned on me. I haven't had the pontoon-owning experience yet; I have no basis for comparison. All I have is everyone else's experiences. No one knows exactly how I want to boat. No know knows my life. No one knows my financial situation. Everyone is (kindly) projecting their needs/wants onto me. Sure, many owners clarify their statements to ensure I get "what's best for me," but reading thousands of threads/responses showcasing 25' Q and R and whatever series boats doesn't help.

Then something magical happened last night. We went for a ride on my buddy's 22' tritoon Avalon with 115hp Honda. A fairly modest boat but still longer and more powerful than mine. It didn't matter. I had a great time. My wife had a great time. I asked him to go 22-25mph (the anticipated top speed in my 20SLG) and my wife exclaimed, "Oh my gosh! It's so fast! Wooooo!" (literally she said that, wooooo!). We laughed, we sipped drinks, we ate snacks (I even rescued my buddy's granddaughter's ball that she dropped overboard... and received much accolades). My wife and I were on the water and we were having the time of our lives. Come spring, we will be able to duplicate that feeling whenever we want with our OWN brand NEW boat, in our own slip, at a marina that is five minutes from the house. Everything we ever wanted in a boat will be available to us on our easily affordable 20-foot, S Series, dual log pontoon boat. And I can't wait. Happy boating my friends!
Last edited: