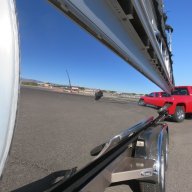 Messages

77
Reaction score

132
Gang,
Many of us with even a slight amount of Pontoon piloting, know that even some slight wind or wakes or a combo of both, can have a detrimental effect on trying to manuever your pontoon either back onto a trailer or, into a docking situation etc. There's times when I'm backing the boat out from a crowded beach and, if there's a cross wind of even a slight amount, sometimes that boat has a mind of its own. Even with the steering cranked all the way, the boat will drift in a direction that can be dangerous if crowds or other boats are close by. I've often thought that, it sure would be nice to be able to simply *push* this boat sideways in certain conditions.
Well, my wife found this on the net not too long ago. Please forgive me if this system has been brought up on here before and maybe other threads are discussing it. I had no idea how to search for it so, I just thought I'd ask about it. Anyyyyyyyywwwaaay, here's what I'm talking about:
No doubt about it, it's darned expensive. But, also, no doubt about it, for pontoons that are larger and, can be cumbersome to negotiate tighter docks, cross winds while trying to put it back on a trailer, and other situations, it sure seems like a great idea. I've got other ideas for the same process but, I thought I'd ask about this one. Has anyone either thought about it, tried it, purchased it? If so, what's your thoughts? Anywhere near worth what they're charging for it?
Scott