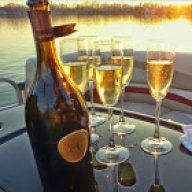 Messages

335
Reaction score

50
Location
There was a post a few weeks back about getting the right bumpers for your boat and dock, and I commented about my bumpers starting to burn the sharkhide on my pontoons after I spent countless hours polishing them  I posed a couple pics there...  Burning my sharkhide just 24hrs after dropping my boat in the water was infuriating, so I needed to find something that didn't involve bumpers and rope.
I started googling some things hoping to find a solution like "bumper-less / ropeless docking" etc...  I was mainly going through the image search to get some ideas of how I can dock my boat without ruining all my hard work and found this gif:
not sure if the image loads with all
This appears to be a perfect option!!  I couldn't find any info on the company on the forum, or anywhere else really so I reached out to them via phone.  They just started selling/manfucturing this year so it's a relatively new product.  There is a demo of it at my dealership which I didn't realize until talking with them, but I did get a pair ordered and I should be able to install in the next week , I promised them I would review this product also so I'll be following up soon with everyone on the outcome...
here is their site
http://suredockusa.com/
 for anyone interested.
In the meantime i'm wondering if anyone has used something like this before.
Any thoughts on this?  Anyone think the bumper would be better than something like this?  pros/cons?