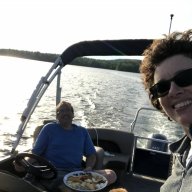 Messages

18
Reaction score

46
Location
Well it has been an emotional rollercoaster the past week or so. From thinking we were definitely buying a Bennington, to realizing that wasn't going to happen when we couldn't make a deal on an Sx, to looking at other brands, back to signing the paper on our new L build.
You all helped me immensely and are the reason we finally have a deal! Thank you!
I started this adventure trying to decide between a bar, dinette or stern recliners. Oh those were the days, unlimited money window shopping. In the end we ordered a 20LSRC which means the table and recliners are waiting in Elkhart for the next lucky person. The 20 foot really fit our needs better and of course there is never enough money.
I have owned 5 boats: My first boat was a Coleman Jon Boat as a teenager, then a 1965 Coronet 24 Cabin I paid $200 for, 1966 Starcraft 16foot, 1960s Owens 21foot Cabin Cruiser, and our current boat 1992 16foot Starcraft fishing boat which came with ripped carpet, faded seats. Not only have I never had a new boat, I never paid over $2,500 for a boat.
Now onto the build:
I think my salesman is as done with this negotiating as I am so unless there is a glaring problem with my build I would rather remain ignorant
20LSRC
115hp Yamaha (biggest for my boat)
SPS
Extended Aft Deck
Bennington Stainless Cleats
RGB Toe Kick (Wow Factor)
RGB Underwater (Keep the family happy)
RGB Cupholders (at this point why not add more lights)
Illuminated speakers come with it
Striker 4
Woodgrain table (I love woodworking and may just make my own, but just in case I don't get to it)
Second table mount so I can put it bow or aft
Single Battery Switch
Ski Tow Bar (probably not much tubing but I love the look of mounting stainless pole holders on it and using it for flags and fishing poles)
Curved Bimini Top (not lighted, had to draw the line on lights somewhere unless I name the boat Christmas Sea)
For now the colors are:
Textured Midnight Black panels
Smooth Metallic Platinum accent panels
Black Bimini
Platinum interior
Perforated Espresso interior accent
We want to see the samples one more time next week to finalize the colors, so thoughts on colors are most welcome! I actually like the sunset red, ocean blue also.