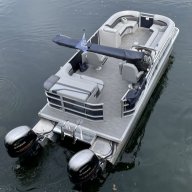 Messages

170
Reaction score

329
The original goal for the project was to increase speed with modest power. I was not after record breaking top speed just more efficiency. During development I used improvements in top speed as a way to measure improvements in efficiency and drag. The potential for drag reduction was first noted when I looked under the deck of a pontoon boat at speed. The hulls created wakes and turbulent water that become elevated when funneled thru the narrow openings at the stern of the boat. I reasoned that eliminating the center tube or center transom would prevent water from being funneled into the remaining narrow space. The result would be less wetted surface area and associated drag.

The basic plan for the drag reduction phase of the project was to replace the tubes with two modified jumbo tubes and then remount the original engine on one of the tubes. This would reduce the above mentioned drag source. I had originally focused on large diameter work boat tubes until I discovered fat elliptical shaped tubes from Bennington. I then purchased elliptical tubes from Bennington along with a boat model 22 SLX with 115 Yamaha motor.

The tubes were modified to improve planing, motor mounting and buoyancy. The elliptical tubes from Bennington came with relatively flat planing surfaces on the bottom of the tubes. I improved their ability to plane by adding reverse chines to the lifting strakes. Further improvement was made by mounting the motor 10 inches rearward from the end of the tube. The intent of this geometry is to improve the boats response to motor trimming. To compensate for the heavy motor overhang the open splash well area normally use for fuel tanks was sealed and used for buoyancy. Fuel tanks would be mounted forward on deck.

The next phase of the project involved mounting the modified tubes and testing. Bennington's accommodation for different tubes made this task practically bolt-on. With the center transom removed and the motor relocated off to one side a wide space was created between the two tubes. This completed the drag reduction phase of the project. With no change in power the change in speed was a significant 46%.

The next phase of the project was adding another engine on the other tube for more aesthetic balance. In addition to balance I also wanted another throttle lever in my hand just because it felt right. Considering that I had doubled the power the change in speed was a only 31% but when added to drag reduction the boat got to 50 mph. This speed was achieved despite low cost aluminum propellers and no under deck sheeting.

I am not a speed freak but what I got is a boat that moves thru the water with less effort at normal cruise speeds. A brisk pace does not interrupt conversation. I am happy with the result.

Questions or comments?