Messages

360
Reaction score

641
Location
Help me Boaty-one Kenobi your my only hope. I am having difficulties trying to get the Simrad on the boat to display the lake map with depths. I was out on the boat yesterday and all it showed was a yellow background. I went to advanced map settings and tried Navionics and C-Map insight (which looked like an 8-bit old Nintendo display of blue squares for water and yellow squares for land). The other two settings didn't even see that I was on the water. I also downloaded the Simrad app which worked perfectly and gave me all the depth readings (the lake our slip is on is new to us and has many shallow spots. I connected it to my Wifi at home and made sure it was the most updated version. I watched some generic tutorials on how to do it by going to the advanced map settings but nothing seems to work.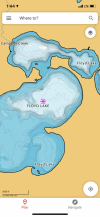 This is from the app and this is what I would love if my Simrad on the boat would do.
Stupid noob question...
1. Out of the box does the standard Simrad maps have this feature or is that only if I buy a nav chip?
2. If I should have this available how do I set it up?
3. Any other tips or tricks for water charts/Simrad customizing?
4. If anyone has some links to videos they found helpful customizing the Bennington Simrad please post the link here for all us noobs to learn from (CLDave still looking forward to your walkthrough
)
I'm not a fisherman so I don't worry about the down scan or side scan but seeing as I will be checking out a few different lakes it would be nice to have the depth maps so I know where to avoid. Thanks everyone!