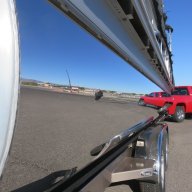 Messages

93
Reaction score

173
Gang,
Well, many of you have seen my recent threads on our somewhat recently acquired Benny 2550 RCL, one about polished toons and one about mold/mildew in the ski/storage compartment. Well, I've got a question for you outboard motor transport gurus. The motor we have is the Yamaha F-350 5.3L V-8 350HP version. To say the least, that's one BIG MOTOR. Now, in an effort to preserve the tail fin/skeg and rather SUPER EXPENSIVE Saltwater Series Stainless Steel prop, tilting that motor is pretty much warranted while the boat is on the trailer and, your towing it.
When the motor is all the way down, and on the trailer, I have right at 7.5" from the bottom of the skeg/tip of one blade of the prop, to the ground, NOT GOOD. So, obviously, tilting it is the name of the game here. Now, here's the deal. There is a *Ski/tow bar* that bridges the top of that motor. The boys at the dealership have electronically set the limit of tilt, so the top of the engine cowling/cover stops about 1/4" from that tow bar when tilting that motor. At that point, the skeg is right at 19 3/4" from the floor/ground. So far, when transporting that boat, I've not encountered EARTH with that skeg, in that predicament.
But, not having ANY outboard motor experience, and, seeing lots of outboard engines SUPPORTED during transport, I'm looking into some form of support for that engine while the boat's being towed. There are a few on the market. The one I like best, OF COURSE it's the most EXPENSIVE. But, you get what you pay for. The one I like is this one:
Moto-Stop Yamaha 2 & 4 stroke Outboard Motor Support Kit
But, here's the deal. Since that Ski-Tow bar is *limiting* the up-travel of that motor for tilting, the power trim rods are only a few inches away from their contact points. What all this means is, even if I wanted to use that fancy one, there's no way on this planet I can get it in there, to support that motor. The motor does not travel up high enough, to insert that support, then let it come back town and let that support take all the weight. Based on where we live, and the distance to the boat ramp, and the road condition between here and there, I'm not too worried about it. But, if and/or when, we decide to transport this boat on the trailer any farther distances, I want to support that motor.
Now, here's a monkey wrench thrown in the game. The boys at the service dept for our boat, can eliminate that up travel limit. And, I've seen that motor come DANGEROUSLY CLOSE to that tow bar during full tilt but, it NEVER HITS it. That motor comes within about 3/16" of an inch but, doesn't hit it. We did it, at the dealer a few times just to make sure. If I were to have them electronically eliminate that up-travel limit, that would solve my problem.
HOWEVER...... while I'm not any form of a structural engineer, especially of boats, I don't know if what I'm gonna suggest here is feasible or not. What I'm wondering here is, during the off-loading and or, retrieving of that boat, when the boat is partially supported at the front by the bunks, and, partially supported by the water, and the rear-most part of the pontoons, THEN is when that motor is tilted, up or down, based on the action of launching or retrieving, IS there POTENTIAL for that boat actually BENDING, enough that, the 3/16" clearance is GONE and tilting that motor up or down, might have the cover/cowling actually come in contact with the ski/tow bar??????
Now, suggesting that a 25.5' Tri-toon Bennington boat can actually BEND, is probably for the most part, INSANE, correct? Good thing you guys aren't near me or, I'd probably get hit with a baseball bat or something... Anyway, this is my dilemma. I want to support that motor, even for short distance transport. But, I can't get/buy any factory motor supports that I can install, due to the fact that I can't tilt that motor to the fully UP position due to the fact that, it does come real close to that ski/tow bar. And, If I have that up-travel limit removed, is there a possibility during loading or off loading that boat, which also entails tilting the motor, will cause contact with that ski-tow bar, due to, for lack of a better term, *hull tweaking*??? What say all you Benny/Outboard motor experts?
Scott